Responsive Design Templates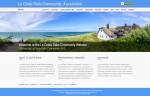 InstaPage Standard 5.0 is the result of over a year and a half of intensive development.
The new version introduces responsive templates for the first time - website templates designed to adjust to any common device resolution, all popular browsers, and all popular tablets and smartphones. Now, 100% of your HOA website's front end features will display and function properly on smartphones. This is a significant leap forward to current, cutting edge technology.
At launch, 5.0 offers twelve responsive templates to choose from. The new templates were designed by a former top designer for CBS Sports, and we feel are exceptionally beautiful.
The new templates support up to three customizable rotating images, and even primary color customization, a tag line adjustable from your Site Administrator Control Panel, and more. They use an interesting movement feature called paralax to add sex appeal when vertically scrolling on any page. We have also streamlined text display to prevent clunky use of differing fonts, font sizes, and colors to ensure a cleaner, more professional appearance through use of CSS rather than older style HTML tags.
In short, InstaPage 5.0 presents a significant upgrade in both beauty and flexibility!